There seems to be a theme this week with my fellow bloggers and writers and for once I feel compelled to join in (plus the fact that a play date with Williams friend tired him out so he gets to nap and I get time to myself (double yay, thanks for that Jacob!)
[edit: it's now Sunday night, it seems that time was snatched away]
One of my favourites places is any sandy beach, and the less people on it the better (of course that goes without saying) however I do like my beach in the spring or maybe sometimes in the winter when there's some air.  This beach is one of my favourites, it is St Mary's Bay in Dymchurch where we holidayed last year.

As a child I grew up spending a lot of time at Studland Bay (I was very lucky), my parents had a beach hut there for years and we would go down at least twice a month first thing on a Sunday morning (and I mean really early) and get down there and have breakfast.  We would be back by lunch time (to miss the traffic) but when I look back and think about it, it was my happy place as a child and I really wish I hadn't spent the car journeys down to there moaning (it used to take an hour but when you're a child it seems like half a day!)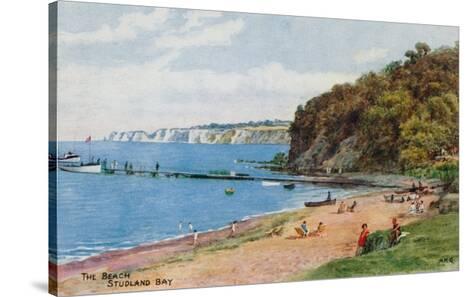 Happy memories of going crabbing (come on grow up, no jokes please) and picking for (ahem) cockles then having them with bread and butter for lunch with a cup of tea or hot squash in the winter and in the summer time was normally spent either in the water, making sand castles or even if it was that hot burying myself in the sand to cool down.  However almost every time I went a book went with me, it was usually an Enid Blyton or as I got in my teens Judy Blume was a favourite.
There were also new memories of the beach hut, going with my nieces and nephew when they were children, but most recent was one of the first times Mike and I went camping.  Having bacon butties and cups of tea first thing in the morning is the best thing about camping, but having it on the beach seemed perfection!
My parents got rid of the beach hut a few years back reluctantly having felt pressured to do so by the National Trust, they had put the charges up for everything including maintenance yet the beach was always dirty and full of seaweed.  The locals were disgusted by it but because it was owned by the National Trust there was nothing they could do about it.  I used to love going there but when my mum had shown me pictures of it I couldn't believe how bad it looked, I am so glad I have the clean happy memories of the beach hut and all the fun times we had there back in the 80's and 90's.  It was always my happy place, and when I had problems sleeping at night I would imagine myself either driving down there or walking along that lovely sandy beach.  I believe that became my happy place!
More recently my happy place has been my garden in the summer, it's like a haven for me and my family.  Watching William enjoy playing outside, Mike pottering in the garden (he's a right ole monty when he gets out there!) and me well just sitting and watching or my nose in a book!
Winter time my happy place is with my family, anywhere.  Whether it be at the park with wellies splashing in puddles, in the house snuggled up watching Peppa pig (and before you say it, yes I meant to say William watching it!) or even playing with toys with him.
I hope this blog makes you think of your happy place, and go ahead close your eyes and think of it as you drift off to sleep…it's a great feeling!